Real-Time Updates
From Teams
On the Go!
Get detailed ground intelligence with our leading field force app
Increase teams productivity by over 35%
Trust delivered in every field
I have found URVA team to be a great innovator, and it's contributions in adapting their product for a CGD company have been exemplary.
URVA team's talented professionals and their mobile apps have supported our sales turnaround. Keep up the good work.
URVA helps in increasing productivity and is continuously evolving to remain contemporary.
URVA is an outstanding team with truly profound vision.
URVA is exceptional vendor partner, delivering timely solutions and prioritizing customer satisfaction.
To accelerate the speed of information collection through digital platforms and make it usable and impactful.
Jump to the field of your expertise
Field Force App For Every Department
Packed with over 8 years of learnings from the best in the industry
Find industry-specific solutions
Banks
Insurance
Financial services
Building material
Real estate
Telecom 
Banks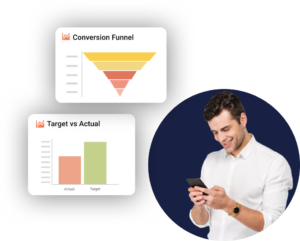 The Branch in the Box app is a powerful tool designed to optimize bank branch operations. It provides branch managers with a centralized platform to streamline tasks, manage schedules, track performance, enhance customer service, and generate insightful reports. By leveraging the capabilities of the app, branch managers can improve operational efficiency, deliver exceptional experiences, and drive superior performance in their bank branches.
Insurance
Financial services
Building material
Real estate
Telecom 
Trusted by teams of all sizes across Asia & Africa









We serve various use-cases in URVA with our field force app