Growing your sales has never been this easy. The complete Sales suite your team deserves - with features you never knew you needed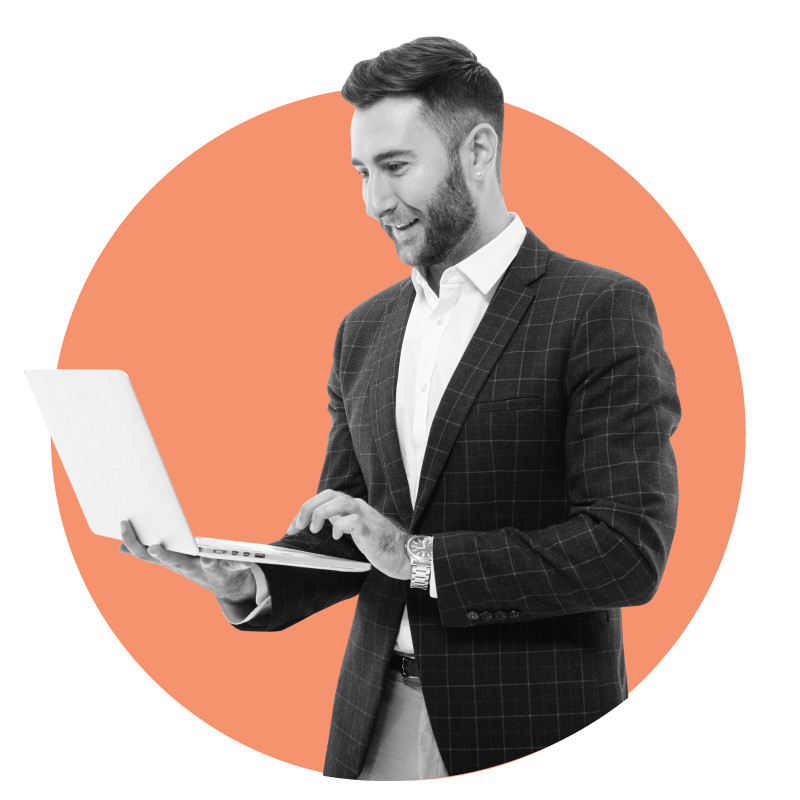 Give field employees the app they need to operate freely
Empower field workers to successfully complete work orders, present service reports for customer signature, provide pricing estimate and much more.
View all your tasks for a given day in an easy view, set meetings on the calendar, and schedule recurring, one-time tasks and reminders.
Your teams have the option to see the most optimal route for the work assigned to them with integrated Google Road & Traffic APIs.
Fill information on forms
Easy to use forms with text fields, photo capture, audio recording, video recording, and digital signature; everything can be part of your records.
Call logging facility allows you to record the details and prompt feedback after every call. It allows you to record call feedback and visit it later.
Update latest product catalogs, brochures and other files to share with customers. Centrally save all the updated information accessible to everyone.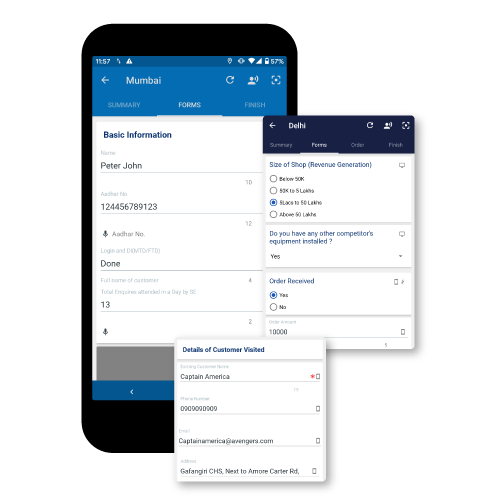 Submit attendance and expense
Facial recognition and geolocation ensure hassle-free clock -ins.
Scan your bills into photos, save and submit them
instantly.
Mobile POS allows you to take orders and ensure the billing
is done. You can also create quotations.
Access critical customer information, including contacts, communication history, and more — from insights engage
well with them.
Help managers prioritize tasks
and plan tasks efficiently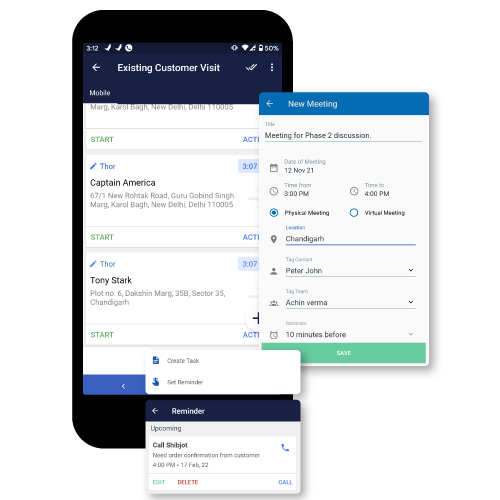 With intelligent scheduling, tasks are automatically assigned to the right resource based on time, skills, location, and business rules.
It is easy to plan routes, view to activity by location, track task progress, analyse travel, device intelligence and more.
Map the hierarchical chain of command like national, zonal and regional to the teams and further into suitable sales agents.
Automate any business process with simple drag-and-drop.Setup smart auto-allocation with autobot that shall decide
who to allocate the work.
Eliminate manual steps by auto assigning routes and tasks and create beat plans for your teams, simplify the day plans.
Dashboards offer a real-time picture of your business at a
glance. Dig deeper with detailed reports that anyone can create, access your reports from anywhere.
Give Senior Leadership Insights
to take faster decisions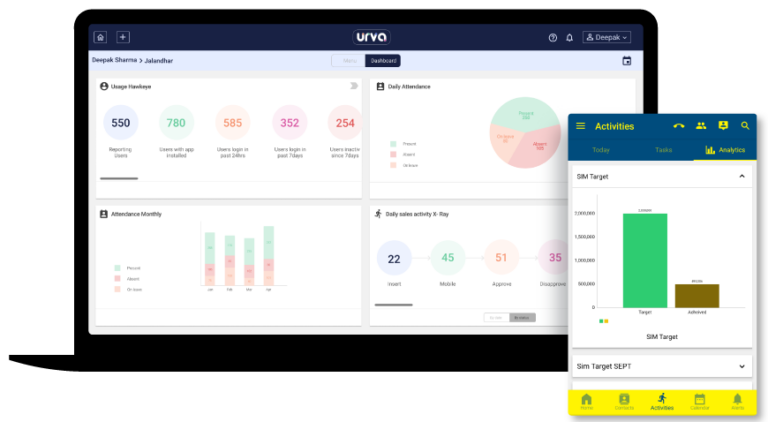 Capture and track sales performance metrics important to your business. Improve performance accuracy with complete field picture.
Keep a real-time view of the health of your business. Stay up to speed on your team's pipeline, auto-schedule reports, and get notifications.
Account and Contact Management
Have a complete view of your customers, including activity history, key contacts and customer communications.
Virtual Performance Assistance
We've taken artificial intelligence out of the lab so everyone get answers(voice search) on reports, sales numbers and more.
Transform how you sell with URVA Sales
Get started with sales software that's easy to use