Get the full picture of success,
before it happens
With our ground-breaking sales force automation software that works as you do
Boost team productivity by over 35% with sales activity automation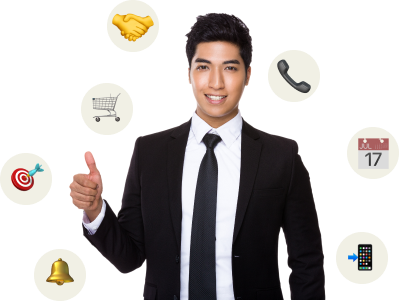 Customer engagement platform, 360° view solutions
Elevate engagement with URVA's 360° Customer & Lead View. Sync seamlessly, secure data, and optimize processes with versatile forms. Reach new heights in customer interaction.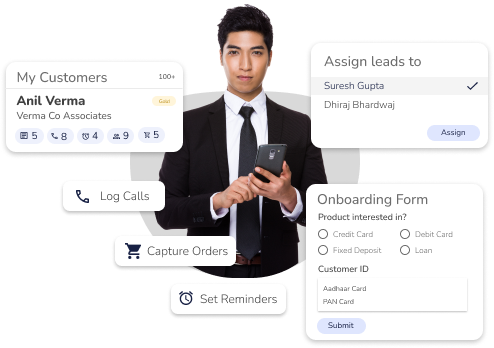 360° Customer & Lead View
Get a holistic view of contacts and interactions, ensuring you have all the information you need at your fingertips.
Seamless CRM Sync & Bulk Upload
Effortlessly synchronize data with your CRM and streamline processes with bulk data uploads.
Secure Data Mapping to Users
Ensure data security by mapping information to authorized users, keeping your valuable insights protected.
Versatile Forms for Every Need
From onboarding to order management, our flexible forms empower you to handle various processes efficiently.
Interaction tracking tools, Efficient communication monitoring
Easily track interactions with URVA's comprehensive tools. Utilize click-to-call, call logging, feedback collection, and call recording for efficient communication.
Effortless Communication Tracking
Keep tabs on every interaction with comprehensive click-to-call, call logging, feedback, and recording features
Click-to-Call Convenience
Initiate calls seamlessly with a single click, enhancing communication efficiency.
Valuable Feedback Collection
Gather valuable feedback after calls to enhance customer understanding and service improvement.
Record calls for accurate records and quality assurance purposes.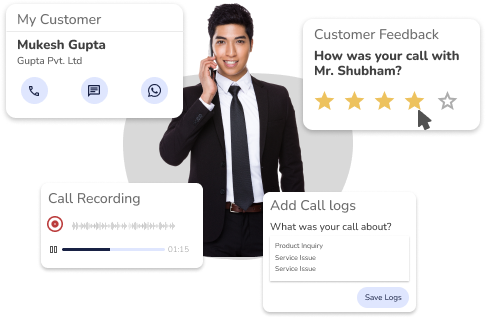 Geotagging, GEOFENCING TOOLS
Enhance meetings with URVA's tools – efficient planning, time tracking, geotagging insights, and advanced geofencing – for improved efficiency and context-awareness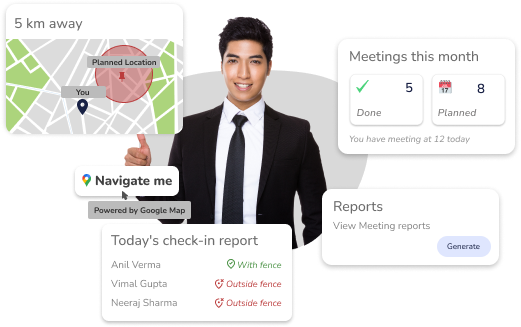 Enhance your planning process with intuitive tools that help you organize tasks and allocate resources efficiently.
Time Tracking Made Simple
Easily monitor time spent on tasks, ensuring effective time management across your operations
Geotagging for Location Insight
Gain valuable location insights by attaching geotags to tasks and interactions, improving context and analysis.
Enhanced Geofencing Capabilities
Set virtual geographic boundaries to optimize tasks, alerts, and interactions within specific locations.
Dynamic goal setting, Goal monitoring software
Monitor and achieve goals dynamically with URVA's Transparent Management. Receive push notifications and access live dashboards for continuous self-improvement.
Performance Tracking with Goals
Monitor progress towards goals, ensuring alignment and motivating success across your team.
Set and adjust goals on-the-fly to adapt to changing priorities and evolving business needs.
Success Push Notifications
Celebrate achievements with instant push notifications, boosting morale and acknowledging accomplishments
Live Dashboards for Self-Assessment
Access real-time dashboards to evaluate your performance, fostering continuous improvement and self-awareness.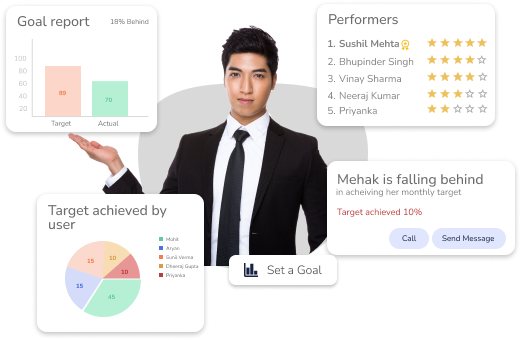 Transparent management tools
Boost performance with URVA's AI – receive insights, and achieve success through data-driven recommendations and efficient suggestions.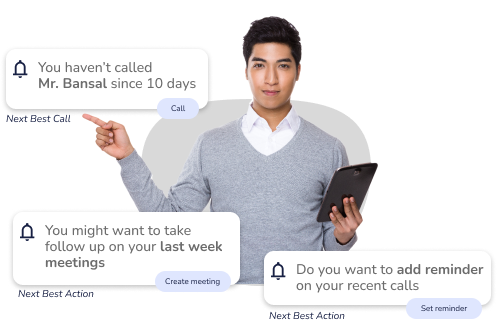 Receive data-driven recommendations for your next call, ensuring effective customer engagement and informed conversations.
Optimized Meeting Suggestions
Get personalized suggestions for your next best meeting, enhancing efficiency and maximizing opportunities.
Profile Change Notifications:
Stay updated on customer profile changes, ensuring you're always informed and prepared for interactions.
Smart Order Recommendations
Receive intelligent suggestions for the best order to take, optimizing sales and customer satisfaction.
Product insights platform, Resource access solutions
Product Intelligence Elevate insights with URVA's Product Intelligence hub – access resources, secure data, and seamlessly share materials for impactful presentations.
Access a centralized repository for product-related materials, ensuring quick and easy availability of collaterals and resources.
Updated Collateral Storage
Store and access the latest brand brochures and materials, ensuring your presentations are always up-to-date and impactful
Keep confidential information secure within the hub, safeguarding sensitive data and ensuring compliance.
Direct Sharing via Company Channels
Share materials seamlessly via connected company channels, ensuring effective distribution and consistency.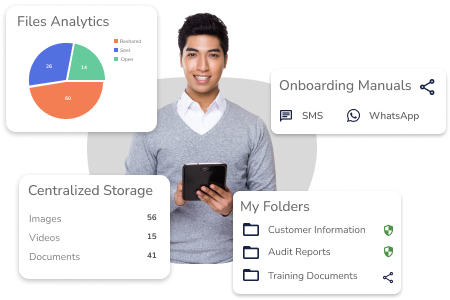 Custom communication channels
 Tailored interfaces for roles – field teams get offline mobile app, leadership uses web app, and admin app supports technical personnel. Boost customer interactions with dedicated connected phone numbers.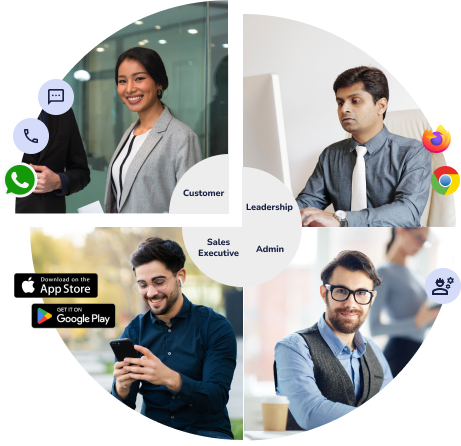 Tailored Channels for All
Provide dedicated channels for every participant, ensuring effective communication tailored to their roles
Mobile App for Field Teams
Equip field teams with a mobile app offering offline support, allowing them to stay connected even without an internet connection.
Offer a web app for leadership, enabling them to access crucial insights and information from their desktops.
Admin App for Technical Support
Provide an admin app for technical personnel to manage and maintain the system effectively.
List of Features That Come With Every URVA Account
Supercharge your
Sales Team with extraaaa
Crush your next target with a tool for team transformation.