No matter what business, challenges are there like a ticking bomb. One wrong move and everything goes south. From proper operations management to customer satisfaction, everything starts to fall apart. Your current challenges can include
Scheduling conflicts
Poor route planning for your representative
Being caught up in the endless paperwork
Wastage of resources
No real-time update
Lack of customer satisfaction
But how you handle situations like these determines your success, and look for a way to create these as opportunities in the near future.
Your every challenge can be easily turned into an opportunity for proving yourself and making the best out of it. Not every time can you change modern problems with traditional solutions, especially when they are digital. There can be multiple challenges regarding field service, but ensuring effective field service management makes everything easier.
Even though every organisation and company try to overcome field service management challenges, some common ones still make it difficult. This is why it becomes essential to have adequate strategies, plans and goals. Let us have a look at the everyday challenges of field service management.
Common field service management challenges and ways to overcome
Scheduling conflicts – Any field service organisation faces a substantial problem in efficiently and precisely maintaining a schedule. There are several factors to consider when choosing which field technician to send on a call, prioritising calls, figuring out how to account for travel time between appointments, and estimating appointment length. Then there are the alterations made at the last minute, the work orders that arrive in the middle of the day, and the cancelled appointments. Even the most diligent staff will have difficulty keeping up with these changes.
How to overcome
Field service management prioritises task management. With automated processes, the risk of human error is eliminated. A simple scheduling process will save time and money. Field service management software gives you the ability and features to schedule tasks and track their on-site jobs with their availability. It is the need of the hour for most people as, according to a 2016 survey, 47% of field employees saw an increase in their daily tasks, whereas there was a 77% decline in overtime. Goals focusing, streamlining services, and customer satisfaction result from scheduling tasks.
Route planning – Manual routes assignment cannot take into account pertinent elements like a technician's location or the current flow of traffic. As a result, anytime there is a little change in the plan—which frequently occurs in field service—they become insufficient. A few consequences of poor or imprecise route planning are missed meetings, backed-up services, and higher travel costs. Routine plans fall short without a complete picture of the technician's location and up-to-date traffic data. Poor routing will use the technician's remaining time and energy at the following service location.
How to overcome
Field service management software can assist in planning routes that enable them to reach the task site in the shortest time possible from the office or other task location. If your task location(s) is allocated on the map and you can monitor the traffic, it helps in quickly planning a time-saving route. Using this feature to optimum use and suggesting a shorter, traffic-free route increases the technician's productivity. Travelling from one place to another doesn't feel like much of a task, and more can be done in less time. Appointments are one of the most essential aspects of an organisation's sale process.
Wastage of resources
Management involves a lot of tasks that can lead to the wastage of time and resources. While we have already discussed how field service management software can help managers and representatives save a lot of time but the problem of wastage of resources is still there. For instance, when you are assigning task locations, and you don't assign tasks per the field representative's expertise, it will call for a lot of resources.
How to overcome
The best way to manage the basic aspects and be more profitable is to use field service management software. The software helps you assign and route personnel as per their expertise as it contains the performance details of each individual.
Never-ending paperwork – The field service management of paperwork is time taking process. Field technicians come to the office to collect a bunch of paperwork, take them everywhere in the field, jot down information and return to the office by the end of the day. All of this can add to the inefficiency of the field workers, can lead to loss of information, and leave room for errors. This disrupts an employee's day plan and daily schedule if any documents are left in the office or misplaced.
How to overcome
Adequate field service management is one of the most time-saving and uncomplicated ways for any business. Tracking inventory, updating documents, getting a 360 view of customers, and saving information become more effortless with just one click. There is no hassle, no running around with papers, no loss or misuse of information, only completing jobs efficiently. Managers at the office get information in no time, and field technicians can easily understand the customer's history and pattern before the task, making it efficient.
Real-time updates – Work updation is necessary for every organisation to run smoothly. Without clear communication with on-field technicians and managers, there can be chances for low-performance rates and mismanagement. Managers at the office rely on information to effectively plan the day, manage work and provide quality service. Representatives often need to communicate with the manager to convey information on time, but being in a low network area might disrupt the call and delay the process. This leads to miscommunication as, according to the manager's day plan, his expectations are different than what the representative is facing on the field.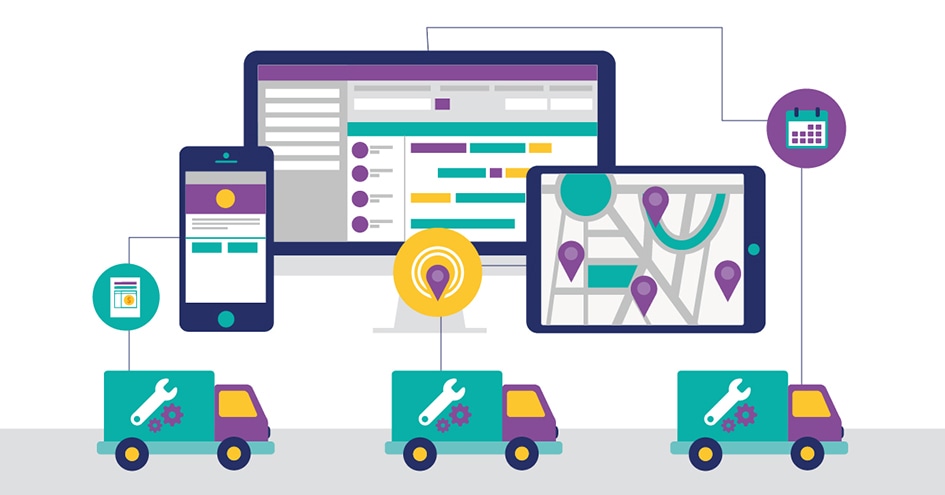 How to overcome
Using field service management software, you may gather and retrieve data instantly when the field technician updates information from on-site and workflows and processes advance. Managers may make necessary schedule adjustments based on the most recent information since they are never left in the dark regarding the progress of a task. It helps in maximising productivity with instant solutions to anything the technician faces.
Customer satisfaction – Customer expectations have always been higher when it comes to getting feedback on time. Constant calls at the office to the manager but not getting a response as managers are unaware of their team on the field is also one of the most prominent challenges organisations face. Unclear information and updates are why customers have a poor experience with the organisation. They don't feel heard and valued, which can end their contact with the business. Keeping a customer out of the loop dramatically impacts the business in a not-so-positive way. All these instances without proper management can increase the possibility of tampered customer satisfaction.
How to overcome
Customers are aware that they need to innovate for their services to remain competitive and grow in today's technology-driven environment. Field service providers can employ technology to improve internal operations and provide quick, efficient, and individualised service to clients. Using a field service management tool, clients can give immediate feedback to boost quality.

Conclusion – Appropriate field service management is the need of the hour. You don't want these challenges to hinder your growth. Digitalising your way of work can boost your success as you leave the customer happy and satisfied with remarkable planning and execution. Automated service management solutions are one-stop solutions for all challenges. You need software that creates a smooth link for the people on-site and in the office. Below are some ways to efficiently overcome these challenges with FSM Solutions.