Which manager doesn't like to give their total effort to increase sales and service and take their business to the next level?
But things get a little trickier when implementing ideas that once looked good in your head. Being a manager is much more than guiding people or updating records by day end. It's about ensuring your sales force team is working to its full potential representing your business entity to the customers. Increasing sales is not just numbers but also building customer trust and loyalty. It isn't practically possible for you to be present in the field dealing with customers and managing information at the office.
Your sales force team is the one you believe in. Working with a sales force tracker lets you ensure your business grows. But before anything, fully understanding the tracker is necessary.
What is a Sales Force Tracker?
A Sales force tracker is software that gives you visibility of your team's activities in the field. It helps increase productivity and eliminates manual processes, which are very time-consuming. In the past few years, trackers have helped well, especially the managers of small and medium enterprises. They give you an overview of your team, their performance report, location, real-time insights and much more.
Along with this, it also helps you take a follow-up to meet the needs and demands of the leads and already existing customers. It maximises productivity and efficiency with its salient features. The optimal use of these features aims to increase sales.
How to use a sales force tracker?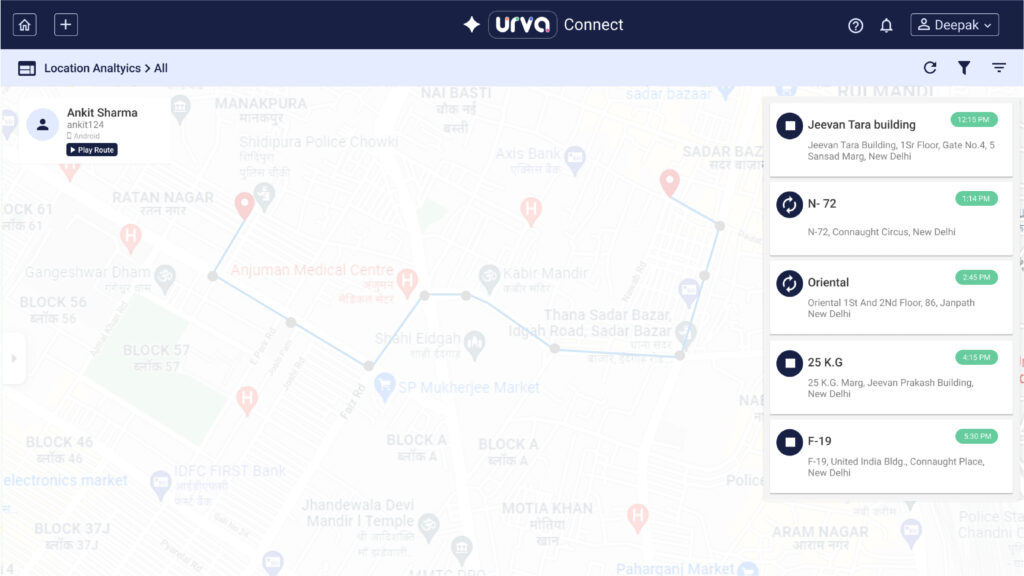 You don't have to feel alone when you think you're unaware of the whereabouts of your sales force. Every time you plan a strategy to maintain leads and have balance among team and customers to increase sales, missing information can rain on your parade. Having a sales force tracker can positively impact your sales as it gives you better management over your team and insights. There are a few successful ways in which you can use the tracker and increase the overall efficiency and sales.
For Digital submissions– With digital data entry, you can decrease the chances of human error that usually occurs while manually updating the information. Updated and latest information is accessible to everyone within no time.
Allocating tasks on the way– Intelligent scheduling saves time and money of travelling to and fro of the sales representative after every task. The proper task can be allocated to the right person for the job.
Real-time insights – Sales force tracker offers you a real-time picture of your sales and the team's progress. With access to detailed reports, staying up to date and getting the complete field picture can be easier.
360 view of customers– Building a solid customer relationship is the most crucial part. Tracker helps you understand your customers' needs and requirements, enhancing their overall experience with the business.
Know your analytics – Staying up to date with your reports and analytics helps make a time frame to take steps to increase sales. It can help you track your team's overall performance, simplifying the decision-making process.
Location intelligence – With GPS intelligence in the sales force tracker, it streamlines the updation of sales activity. Also, it helps the sales representative to get a location-specific lead which enhances their performance and eventually increases sales.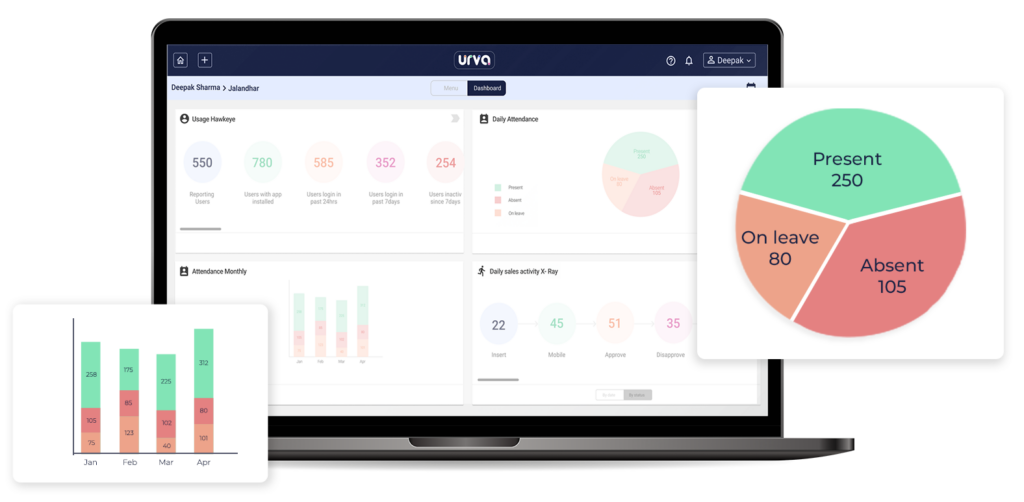 URVA Sales Force Tracker offers an integrated platform to monitor the sales force team. Get the report of every field task, time spent, and customer reviews. Every organization requires a tracker that they can use to enhance sales productivity. It allows you to bring out the best of your sales force and add next-level value to your business.

Transparency between you and your field team leads to the smooth execution of each task and drives the company towards its goals. This software is very easy to use, and with a complete field picture, there is an improvement in the performance. It perfectly aligns with your organizational goals and gets you the best results. An efficient workforce system ensures the achievement of goals and increased sales month after month. Real-time updates give you a perfect window to detect the issue and guide the sales force to rectify the situation. With URVA Sales Force Tracker, you as a manager can take precise and quick corrective action and bring maximum sales to the company.