URVA Sales Force Tracker (formerly known as FeetPort) gives you a powerful, highly customizable, mobile-friendly field sales platform in URVA. Running a field sales team in a business means managing numerous moving parts. Throughout the day, your employees complete dozens of tasks. As a manager, you might feel like it is nearly impossible to keep up with what each person is doing or what you would like them to work on. With URVA Sales Force Tracker, you get the tools to manage the field team's tasks, scheduling, and your mobile workforce. Here are some of the things you can do with Sales Force Tracker
• Minimise paperwork and manage your field sales agents, and add details about their skills, location, and availability
• Set up multi-level sales territories that represent the regions where sales agents can meet clients
• Track the location and status of your teams and customer sites
• Create plans and templates to standardise your sales agent tasks
• Generate reports to keep the head office informed about sales progress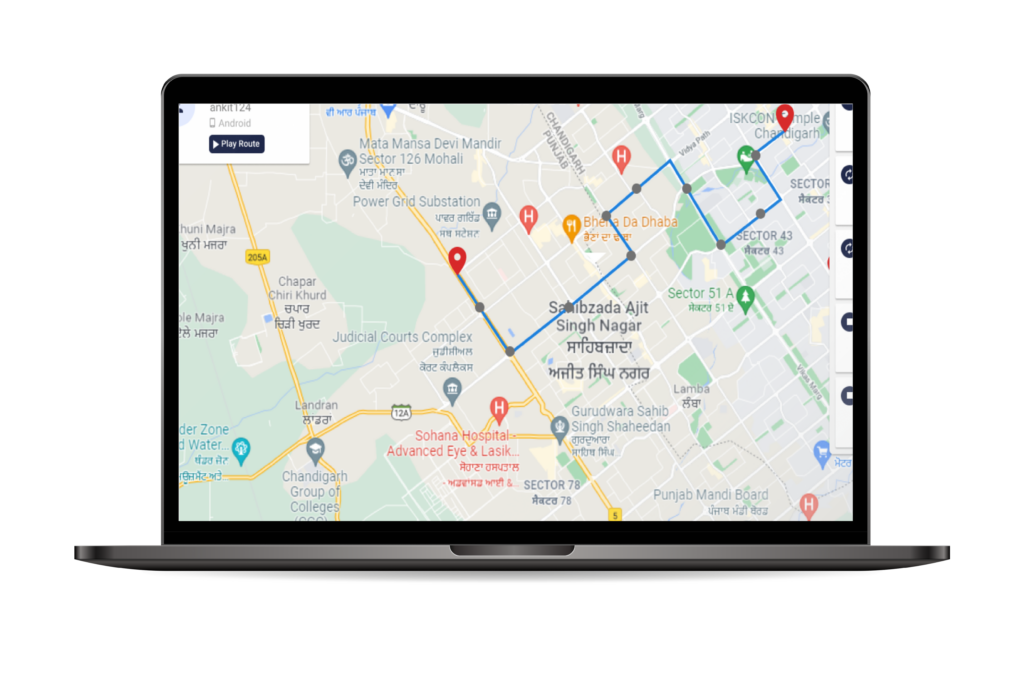 What about field staff briefing? Are there Sales force Tracker tools for that?
Most organisations manage task allocation manually. It requires undivided attention from the team and manager, leaving room for human error. It is challenging to add incomplete tasks, field sales agents running behind schedules, and miscommunication. Our Sales force Tracker comes in.
Proper tracking: With the location tracking module, you can track your on-site and off-site employees. It lets you have complete knowledge about your team's whereabouts. You can also get real-time working status to know what all your executives have planned and how they are working on it.
Avoid miscommunication: With location transparency, you can assign them the best suitable task according to their latest location updated by the GPS. There won't be a situation where more than one sales agent does the same job. Also, systematically assign multiple tasks.
Monitor progress: With access to all the employees' dashboards, you can monitor their progress and targets on an online platform. With the admin view, you can get information about customer visits and the team's goals for the desired period. You can stay updated with all the alerts.
Team directory: Other than the location updates, it also gives you complete information about the check-in and check-out of your employees to the customer's location. With geo-fencing and geo tagging features, you can know when your remote employee has logged in and marked their attendance. URVA also brings you all the necessary information about your team's devices, their battery percentage, mobile data and even them using aeroplane mode. It will help you make prompt decisions about your work and team if you ever feel like they're trying to fudge their location.
Expense Management: With this feature, employees no longer have to wait to come to the office and submit expenses. They can upload their bills and expenses. Managers can cross-check the information of employees claiming the expenses done on the field and while travelling. It can help you with easy approval if you've all the data on your dashboard. Quick service like this motivates the employer. You get to see more productivity in your employees when you make their job easy and comfortable.
There are many Sales Force Tracker apps in the market, but URVA will make you fall in love with its features. But with URVA Sales, your sales team can spend less time on data entry and more time connecting with customers. Our tools can also help your sales reps develop and implement a precise, repeatable sales process. URVA's ease of use & mobile-first approach makes adoption extremely easy.
Plan your agents' day for them, from the number of meetings to the goals for the day. Reduce the time involved in a briefing.
Automate attendance management for your field agents using the check-in and check-out feature. You don't have to track every employee manually anymore.
Network issues won't slow your agents down – they work offline or with low connectivity.
Restrict data input or attendance based on location to ensure reps are present at the desired location
Location & Distance Tracking
Track the complete route travelled by your agents & calculate claims based on the distance covered
Performance Tracking & Reports
Get advanced reports for revenue calculation & agent performance based on any criteria.
You need the best field sales tracking apps that let you know the location of your sales reps and show their sales performance. You can measure their productivity through the sales rep tracking app and take action to enhance it.
URVA Sales is one holistic solution that considers all the above features in a sales force tracker. If your business needs to make your sales teams more productive in growing your business, you can request a demo today.